Industrial Hydraulic Oil Chillers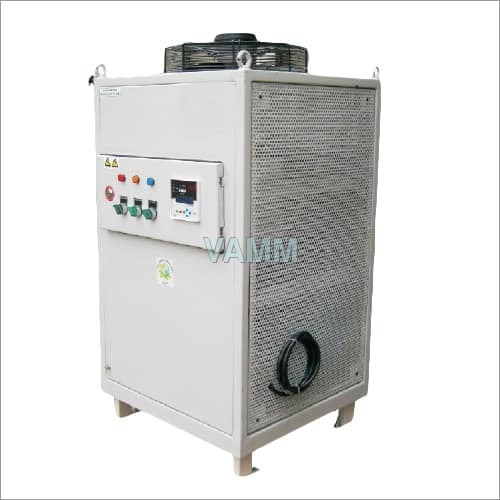 Industrial Hydraulic Oil Chillers
Product Code : 01
Price And Quantity
Minimum Order Quantity
1 Piece
We are a noted manufacturer and supplier of premium quality Hydraulic Oil Chillers. The provided chiller is made by our team by using high quality material and latest technology keeping in mind industry norms. They are widely used for controlling the cooling of electronic components, products, mechanisms and factory machinery. To fulfill the different need of our clients, we avail these Hydraulic Oil Chillers in various specific options at affordable price.
The Hydraulic Oil Chillers are required for special process where oil temperature rises and has to be maintained at a ambient temperature. The Hydraulic oil chillers are Designed, Manufactured for High Heat Rejection Systems with excellent energy efficiency, long lasting, capability to sustain higher ambient temperatures, Fluctuating Loads.
The Hydraulic Oil Chillers supplied by VAMM Industries are compact, energy efficient, low power consumption, long lasting, capability to sustain high heat loads and high ambient temperatures without affecting energy efficiency and performance rating.
Fire Proof & Flame Proof (ATEX Certified) chillers also manufactures required for Highly Explosive Environment.
Applications
| | | |
| --- | --- | --- |
| Hydraulic Power Packs | Milling | Shaping |
| Turning | Planning | Drilling |
| Slotting | Honing | Thread Cutting |
| Cutting | Reaming | Broaching |
| Jig Boring | EDM | Hydraulic Power Press |
| Moulding Machine | Polishing | Super Finishing |
Features

Cooling Capacity – 3500 Watt / 3.50KW / 12000 BTU Onwards
Energy Efficient
Cost Effective
Compact Structure
Low Flow Spare
Strong, Sturdy, Powder Coated Body
Wide range of Refrigerant choices (R-134a/R-22/R-407C/R-410A etc.)
R-134a (Non-CFC)
R-407C (Non-CFC)
R-410A (Non-CFC)
R-22
Electro-mechanical controls
Air Cooled Condenser with Axial Flow Fans
Wide Compressor Choice

Hermetic Reciprocating
Hermetic Scroll
Semi-Hermetic Reciprocating
Depending on the Application we have Evaporator choices

Plate Heat Exchanger
Co-Axial Heat Exchanger
Direct / Indirect Oil Chilling Options
Options

Fully Automatic Micro-processor based units
Chillers with remote data logging and controls
Self fault indications
Precise Temperature Control – 0.1⁰C/F
Wheels for easy movement

Quality Control

All components are tested thoroughly before assembly
Due importance for internal cleanliness of refrigeration parts
100% Factory assembled and functionally tested refrigeration system.
| | | | | | | |
| --- | --- | --- | --- | --- | --- | --- |
| Model No | Ref | Nominal Capacity (TR) | Nominal Cap. (Kcal/hr) | Oil Temp. °C | Max Press. (Bar) | Conn. I/O (BSP) |
| OC7.2MCAP-301B01W50 | R134a | 0.5 | 1500 | 20-25 | 2.5 | 1/2" |
| OC14.4MCAP-101B01W50 | R22 | 1 | 3000 | 20-25 | 2.5 | 1/2" |
| OC21.6MCAP-201B01W50 | R407C | 1.5 | 4500 | 20-25 | 2.5 | 3/4" |
| OC21.6MCAP-101B01W50 | R22 | 1.5 | 4500 | 20-25 | 2.5 | 3/4" |
| OC28.8MCAP-201B01W50 | R407C | 2 | 6000 | 20-25 | 2.5 | 1" |
| OC28.8MCAP-101B01W50 | R22 | 2 | 6000 | 20-25 | 2.5 | 1" |
| OC43.2MCAP-201B01W50 | R407C | 3 | 9000 | 20-25 | 2.5 | 1" |
| OC43.2MCAP-101B01W50 | R22 | 3 | 9000 | 20-25 | 2.5 | 1" |
| OC43.2MCAP-201B01W50 | R407C | 5 | 15000 | 20-25 | 2.5 | 1" |
| OC43.2MCAP-101B01W50 | R22 | 5 | 15000 | 20-25 | 2.5 | 1" |
| OC108MCAP-201B01W50 | R407C | 7.5 | 22500 | 20-25 | 2.5 | 1" |
| OC108MCAP-101B01W50 | R22 | 7.5 | 22500 | 20-25 | 2.5 | 1" |
| OC144MCAP-201B01W50 | R407C | 10 | 30000 | 20-25 | 2.5 | 1-1/4" |
| OC144MCAP-101B01W50 | R22 | 10 | 30000 | 20-25 | 2.5 | 1-1/4" |